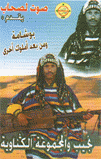 NAJIB SUDANI is the son of one of the last Gnawa m'allimin in Essaouira. Najib was taught by his father who died three years ago at the age of 75.
The family name "Sudani" originates from the old French colonial name for the region of West Africa (sudan) which includes what is today Mali.
In the Sudani family, the Gnawa tradition has been a father to son heritage for 400 years. The rhythms and songs are prayers addressed to God. There are the guenbri with three strings, qraqabeb, metallic castanets, and percussion.
The discipline of Gnawa is essentially a therapeutic music for those who believe they are touched by bad spirits or possessed by ghosts.
-najib sudani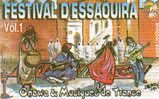 (master) among the Gnawa of Essaouira, Morocco (on the coast due west of Marrakesh). The Sudanis are carriers of what has been a 400 year old father-to-son tradition in their family.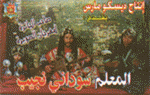 Their paternal grandfather, M'Barek, was abducted from his village of Chnafou, Sudan and sold across the Sahara, as was their grandmother, who was native to the area of Bamako, Mali. Najib's father, Hajub "Gubani" Sudani, who died in 1997, was Moqadem of the Zawiya (elected leader of the brotherhood and shrine) of the Gnawa in Essaouira and was teacher to many of today's prominent Essaouiran Gnawa. Musicians from around the world, including Jimi Hendrix and Carlos Santana often came to Essaouira to play with M'allim Gubani.
The Gnawa of each region have their own sound, and that of Essaouira is one of distinct funk and vitality. Najib, in particular, has a unique style among the Gnawa with a virtuosic driving and nuanced rhythmic attack and a pungently blue sense of pitch. Alongside of maintaining the ancient tradition and ceremonies, Najib plays in an innovative and personal style and is composing original songs that expand upon his Sudani roots. Najib has toured Morocco and Europe with his brothers as the National Gnawa Orchestra. He has released five recordings of his own group in Morocco, and is the central figure on the collaborative deep dish CD, SUDANI, with Americans Patrick Brennan & Nirankar Khalsa